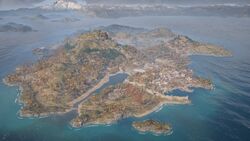 Lesbos is a Greek island in the northeast Aegean Sea that is most famous for being the home of lyric poet Sappho. Together with Chios, Lesbos formed the Petrified Islands.
History
In addition to Sappho, by the 5th century BCE Lesbos had also garnered fame like its sister island Chios as the birthplace of the Daughters of Artemis, an all-female cult revering the Greek goddess Artemis.[1]
During the Peloponnesian War the Spartan misthios Kassandra visited the island.[1]
Regions
The island of Lesbos was made of four regions:
Trivia
The name of the island gave origin to the word "lesbian", as Sappho is believed to be have been homosexual.
Gallery
Appearances
References