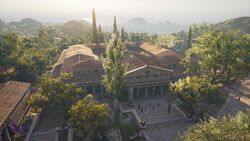 The Leonidaion was a guesthouse which served as a lodging place for athletes taking part in the Olympic Games in the Sanctuary of Olympia, Greece. It was named after its architect, Leonidas of Naxos.
History
During the 428 BCE Olympics the judges Kallias and Demophanes hosted their habitual feast at the Leonidaion, with Alkibiades joining his old friends in celebrating the Olympics. Following the beginning of the Pankration event [1] Alkibiades fell ill, and his friend the Spartan misthios Kassandra investigated Leonidaion, finding the rest of the guests dead, and the name of the merchant responsible for the supplies for the party: Priam.[2]
Trivia
Gallery
Appearances
References
Community content is available under
CC-BY-SA
unless otherwise noted.