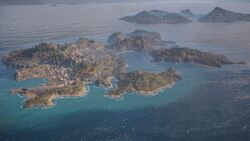 Lemnos is an island in the Aegean Sea, located between Lesbos to the northeast and Skyros to the southwest. Together with Thasos, it formed the Hephaistos Islands.
Mythology
According to Greek mythology, the god Hephaistos had a limp. When the goddess Hera discovered this, she threw him off Mount Olympos. He landed in the sea near Lemnos, where sea deities rescued him.[1]
History
At some point during the 420s BCE, the Spartan misthios Kassandra explored the island, managing to hunt down a member of the Delian League branch of the Cult of Kosmos.[2]
Regions
The island of Lemnos comprised two regions:
Trivia
Gallery
Appearances
References
Community content is available under
CC-BY-SA
unless otherwise noted.