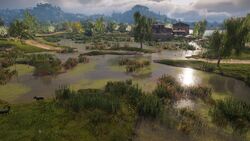 Learna Swamp was a swampy lake located within the Wetlands of the Hydra region, south of Argos and west of Nauplia in Argolis, Greece.
History
In Greek mythology, Herakles killed the Lernaean Hydra southeast of the lake,[1] with his nephew Iolaos cauterizing its necks to prevent its heads from growing back.[2]
Despite the lake's calm look, it was known for being perilous, drawing swimmers to the bottom.[1] During the Peloponnesian War, the swamp had become home to wild boars, which attacked travellers. The Spartan misthios Kassandra slew the alpha animal of the pack while passing through the area.[3]
Gallery
Appearances
References
Community content is available under
CC-BY-SA
unless otherwise noted.