Last Rites was a virtual representation of one of Ezio Auditore da Firenze's genetic memories, relived by Desmond Miles in 2012 through the Animus.
Description
Ezio attempted to assassinate the fourth of Girolamo Savonarola's nine lieutenants, the priest.
Dialogue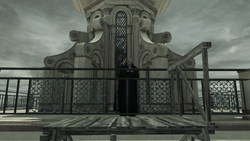 Priest: Omnipotens Deus, Rex regum, et omnium gubernator...
Ezio began to climb the Duomo, undetected.
Priest: Omnipotens Deus, Rex regum, et omnium gubernator, cujus potentiæ nulla creatura resistere potest, cui proprium est peccatores punire, et eorum misereri qui vere agunt pænitentiam, serva et libera nos, suppliciter te petimus, a manu inimicorum, reprime eorum superbiam, minue malitiam, dissipa illorum machinationes et astutias, ut nos tuis armis muniti semper servemur ab omnibus periculis, ad glorificandum te, qui es unicus victoriæ largitor: propter merita unigeniti filii tui Domini nostri Jesu Christi. Amen. Pater noster qui es in cælis, Sanctificetur nomen tuum. Adveniat regnum tuum. Fiat voluntas tua, sicut in cælo, et in terra. Panem nostrum quotidianum da nobis hodie. Et dimitte nobis debita nostra, sicut et nos dimittimus debitoribus nostris. Et ne nos inducas in tentationem. Sed libera nos e malo. Amen. (O Almighty God, King of all Kings, and governor of all things, whose power no creature is able to resist, to whom it belongeth justly to punish sinners, and to be merciful unto them that truly repent: Save and deliver us, we humbly beseech thee, from the hands of our enemies; abate their pride, assuage their malice, and confound their devices; that we being armed with thy defence may be preserved evermore from all perils to glorify thee, which art the only giver of all victory, through the merits of thy only Son, Jesus Christ, our Lord. Amen. Our Father, who art in heaven, Hallowed be thy name. Thy kingdom come. Thy will be done, as in heaven, so on Earth. Give us this day our daily bread. And forgive us our trespasses, as we forgive those who trespass against us. And lead us not into temptation. But deliver us from evil. Amen.)
Ezio assassinated the priest.
Priest: I thought Savonarola preached the word of God.
Ezio: I fear his sermon is a lie.
Priest: I led my flock astray... It's just... I wanted so badly to believe...
Ezio: We all do. Vedrò compiuta l'opera di mio padre (I will see my father's work complete)... Requiescat in pace (Rest in peace).
Outcome
The Priest realized that Savonarola had lied to him, and Ezio assassinated him. The Medici guards assumed control of the district.
Trivia
Gallery
References
Community content is available under
CC-BY-SA
unless otherwise noted.