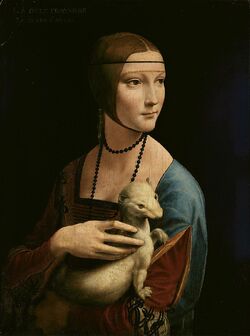 Leonardo da Vinci's Lady with an Ermine is a depiction of Cecilia Gallerani, mistress of Ludovico Sforza, Duke of Milan.
Painted 1489-90, the painting was eventually purchased by Ezio Auditore da Firenze and placed in the gallery at the Villa Auditore.[1] The painting was later lost during the Papal attack on Monteriggioni, led by the Templar Cesare Borgia.[2]
Six years after the attack on Monteriggioni, in 1506, Ezio Auditore – whilst looking for a kidnapped Leonardo – learned that the Lady with an Ermine held part of a map identifying the location of the Temple of Pythagoras, and that the painting was in the possession of a Florentine merchant based in Rome. Upon approaching the merchant, Ezio was shocked to discover it was his sister Claudia's former fiancé – Duccio de Luca.[3]
Despite Ezio's attempts to remain civil, Duccio's insults regarding Claudia saw him receive a stout punch to the face. After a prolonged fistfight between the Assassin and Duccio's entourage, Ezio retrieved the painting, as Duccio lay on the ground unconscious.[3]
Appearances
References
Community content is available under
CC-BY-SA
unless otherwise noted.