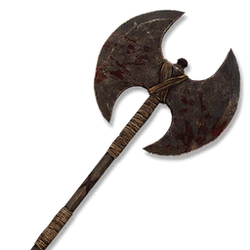 The labrys is a type of a battleaxe with a double-bitted head.
Though there were labryses commonly used in 5th century BCE Greece, the most notable of its kind was the labrys of the Minotaur.[1]
Weapon statistics
Peloponnesian War (5th century BCE)
Ptolemaic Egypt (1st century BCE)
Name
Rarity
Quality (Max Level 55)
Damage (Max Level 55)
Attributes
Availability
Labrys
Legendary
123
539
Adrenaline on Hurt II
Adrenaline Regeneration IV
Health on Kill
Purchase the Gladiator Items Pack DLC
Italian Renaissance (16th century)
Appearances
References
Community content is available under
CC-BY-SA
unless otherwise noted.