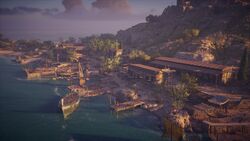 Kyllene was a seaport town located in Araxos Point region of Elis in the Peloponnese.
The town was home to cults of Aphrodite, Asklepios, and Hermes, and also served as a base for the Elian fleet.[1]
During the Peloponnesian War, the Spartan misthios Kassandra escorted the Spartan Pankration champion Testikles to the town in order to take part in the 428 BCE Olympic Games. When Testikles attempted to embrace Kassandra, the mercenary evaded him, causing Testikles to accidentally fall into the sea whereupon he was devoured by sharks.[2]
Gallery
Appearances
References
Community content is available under
CC-BY-SA
unless otherwise noted.