This article is about the ship named Kronos. You may be looking for the Titan.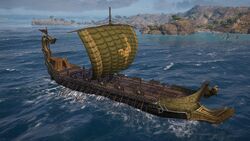 The Kronos was a trireme captained by Melanthos, a member of the Gods of the Aegean Sea branch of the Cult of Kosmos.  
During the Peloponnesian War, the Kronos crossed paths with the Adrestia, a ship commandeered by the Spartan misthios Kassandra and captained by Barnabas. In the following conflict the Kronos was sunk and Melanthos slain.[1]
Behind the scenes
The name of the Kronos, a ship in Assassin's Creed: Odyssey, references a Titan in Greek mythology, Kronos, the father of Zeus, Hera, Demeter, Poseidon, Hestia and Hades.
The emblem on the ship's sails features a rooster, which was at some point apparently the emblem of Pephka, but survives in-game only on this ship's finery and the message board menu at Lato.
Gallery
Appearances
References
Community content is available under
CC-BY-SA
unless otherwise noted.