This article is about the animal. You may be looking for the memory.
"I've never seen such a monster! This beast isn't even native to these lands."
―Kassandra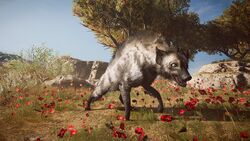 The Krokottas Hyena was a legendary hyena who had made its way to the Kythera Island and made its lair in the Skandeia Bay region during the 5th century BCE.
During the Peloponnesian War the hyena was hunted down by the Spartan misthios Kassandra. She took its pelt as proof of her success to Daphnae, the acting leader of the Daughters of Artemis.[1]
Trivia
The Krokottas (Greek: Κροκόττας) was a mythical wolfdog, which was believed to inhabit India or Africa. Nowadays, scholars think that the legendary krokottas may be identified with the spotted hyena.

The spotted hyena's scientific name is Crocuta crocuta, after the legendary beast.
Despite this the Krokottas Hyena is depicted in game as a striped hyena.
Gallery
Appearances
References
Community content is available under
CC-BY-SA
unless otherwise noted.