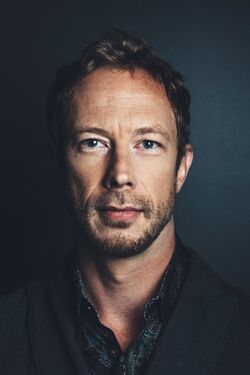 Kris Holden-Ried (born 1 August 1973) is a Canadian actor, director and athlete based in Toronto. He provided the voice and motion capture for Crawford Starrick, the main antagonist of Assassin's Creed: Syndicate.
Biography
Raised in Pickering, Ontario, Holden-Ried knew he wanted to be an actor from an early age, but his family did not really support this career choice. He subsequently opted to attend Montreal's Concordia University School of Business to study international commerce.[1]
During his education, Holden-Ried also competed in sports, excelling as an athlete. He became a member of the Canadian National Pentathlon Team and achieved silver medals from both the Pan American and Pan Pacific Pentathlon Championships for riding and fencing. However, due to a lack of funding for athletes, Holden-Ried accumulated a large amount of personal debt.[1]
In 1994, Holden-Ried joined a modelling and talent agency to earn some money so he could continue his education. He landed his first audition for a children's movie called Young Ivanhoe, thanks to his experience with horseback riding and fencing.[1] However, Holden-Ried left the industry a few years later due to a lack of confidence in his acting skills, having never received formal training.[2]
With the help of fellow actor Michael Ironside, Holden-Ried was introduced to Janine Manatis, who became his acting coach and taught him the craft over the next four years.[2] Since then, Holden-Ried has appeared in a multitude of shows, most prominently The Tudors, The Listener and Lost Girl. He is set to appear in short film The Epitaph, which he himself directed.[1]
Assassin's Creed works
Assassin's Creed: Syndicate (2015) - Crawford Starrick
References
External link
Community content is available under
CC-BY-SA
unless otherwise noted.