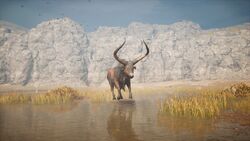 The Kretan Bull was a legendary bull which inhabited the Fertile Battleground region of Messara, Greece during the 5th century BCE.
History
Myth
The Kretan Bull was said to be the father of the Minotaur, whom the Kretan Bull sired with Pasiphae. The bull was later said to have been captured by the hero god Herakles as part of his twelve labours. The bull later broke loose and wandered into Marathon, Attika, becoming known as the "Marathonian Bull". It was eventually slain by Theseus.[1]
5th century BCE
At some point during the Peloponnesian War the Spartan misthios Kassandra hunted the Bull down at the request of Daphnae, the leader of the Daughters of Artemis. Kassandra subsequently looted its pelt and gave it to Daphnae in Phokis.[2]
Place
The beast's lair was a marshy area with rocky outcroppings and heavy undergrowth of shrubs. [3]
Gallery
Appearances
References
↑ Assassin's Creed: Odyssey
Community content is available under
CC-BY-SA
unless otherwise noted.