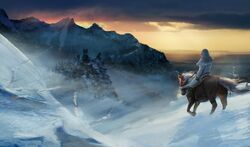 Krasnoyarsk is the third largest city in Siberia, and the administrative center of the Krasnoyarsk Krai, Russia, located on the Yenesei River.
History
On 15 November 1917, the Assassin Nikolai Orelov traveled to Krasnoyarsk to infiltrate the city's asylum and free Khioniya Guseva, a former disciple of Grigori Rasputin who turned on him and tried to kill him. Once found, Orelov noticed how the poor woman was heavily disfigured. In exchange for telling him what had occurred during her assassination attempt, she would get her freedom. Once she fulfilled her end of the deal, Guseva asked the Assassin to put her out of her misery, and so Orelov thrust his Hidden Blade through her heart, killing her.[1]
Appearances
References
Community content is available under
CC-BY-SA
unless otherwise noted.