Knowledge is Power was a virtual representation of one of Ezio Auditore's genetic memories, relived by Desmond Miles in 2012 through the Animus.
Description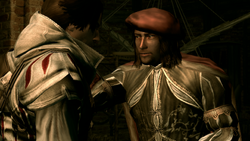 During the famed Venetian Carnevale celebration, Ezio Auditore visited his friend Leonardo da Vinci, in order to ask him for a spare mask that he could use to hide his identity during the event. He also gave Leonardo more Codex pages for him to decipher, which were later revealed to be the designs for an upgrade for the Hidden Blade, featuring a small firearm.
After Leonardo constructed the device, he set up three dummies for Ezio to practice on. After testing his new weapon, Ezio thanked Leonardo, wore the Carnevale mask and then headed back out onto the streets.
Dialogue
After failing to save Doge Mocenigo, Ezio returned to Leonardo at his workshop.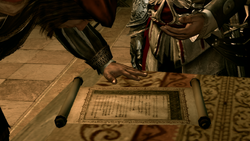 Leonardo managed to construct the Hidden Gun and Ezio went to test it on some dummies that had been placed by the inventor. After proving it worked, he returned to Leonardo.
Ezio nodded lightly.
Outcome
Ezio received and used the Hidden Gun for the first time, and he was given a mask to keep him incognito for the duration of Carnevale.
Trivia
Gallery
Community content is available under
CC-BY-SA
unless otherwise noted.