"The legendary Knossos - once palace to King Minos."
―Kassandra, c. 429 BCE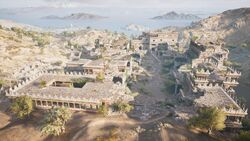 Knossos Palace was a palace complex and capital of Greek city-state of Knossos on the island of Krete. It was the residence of the mythical King Minos.
Layout
Considered the "largest of all palaces", the Knossos Palace measured more than 13,000 square meters, the numerous rooms and chambers built around a central courtyard.[1]
History
Believed to have been built in the 17th century BCE,[1] the Knossos palace was built atop an Isu vault housing the Minotaur, a hybrid beast created as part of the Olympos Project.[2]
By the 5th century BCE, the Knossos Palace was located within the region of Messara known as Minos' Legacy. At some point during the Peloponnesian War, the palace was visited by the Spartan misthios Kassandra.[2]
Appearances
References
Community content is available under
CC-BY-SA
unless otherwise noted.