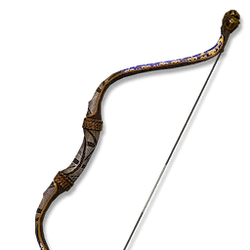 The Khryselakatos was a legendary warrior bow used in the 1st century BCE Egypt.
Inspired by and dedicated to Artemis, the Greek goddess of hunting, the bow was said to have been blessed by her, and protect its wielder. The Medjay Bayek of Siwa found the bow in the inventories of blacksmiths and in chests and corpses during his journeys throughout Egypt.[1]
Weapon statistics
Rarity
Quality (Max Level 55)
Damage (Max Level 55)
Attributes
Availability
Legendary
??
??
Precision II
Adreline on Kill II
Elevation Multiplier
Blacksmith, Loot
Description
Artemis protects you while raining down arrows upon your enemies.
Trivia
The name Khryselakatos is an epithet of the goddess Artemis, meaning 'of the Golden Shaft'.
References
Community content is available under
CC-BY-SA
unless otherwise noted.