I wanted to ask you something. Which is… what's your name?


The title of this article is conjecture. Although canon, no official name for the subject of this article has been given.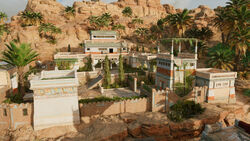 Khenut's Villa was the residence of Khenut and Hotephres, as well as their daughter Shadya in Euhemeria, Egypt, during the 1st century BCE.
History
Around 48 BCE, Hotephres stole a ledger containing delicate information about the Order of the Ancients member Berenike from a Greek magistrate. In order to keep the ledger safe, he gave it to his wife for safekeeping. Khenut further gave the ledger to their most trusted servant to hide in the villa, and the servant did so.[1]
Following the theft of the ledger, Berenike gave orders for soldiers to trash Hotephres' bureau in Soknopaiou Nesos, harass his wife, and seek out the ledger no matter what. Over the course, the soldiers thrashed the alms kitchen Khenut worked at, and also seized Khenut's villa, as well as the servant.[1]
After the death of Shadya, Khenut and Hotephres moved to Hotephres' farm in Philadelphia instead of returning to the villa.[2]
Appearances
References
Community content is available under
CC-BY-SA
unless otherwise noted.