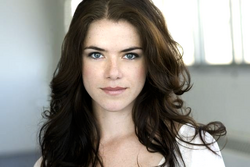 Kaniehtiio Horn (born 1985 or 1986), also known as Tiio Horn, is a Kanien'kehá:ka actress, best known for her roles in the television series Hemlock Grove and Defiance. In the Assassin's Creed series, she voiced and provided facial capture for Kaniehtí:io in Assassin's Creed III.
Biography
Early life
Kaniehtiio was born in Notre-Dame-de-Grâce, Montreal, Canada to a Scottish-German father, and a Mohawk mother, Kahn-Tineta Horn. She is a native of Kahnawake, a Mohawk reserve outside of Montreal. Growing up with six older sisters, she split her time between the reserve and Ottawa, where her father lived.[1]
Horn chose acting as her career at a young age, but concentrated on swimming and water polo as a teenager. She cited Jim Carrey as her inspiration to go into acting, realizing when watching Ace Ventura that actors like him can be paid to make people laugh.[2] She graduated from Dawson College in 2005 for theater arts, and appeared in a number of short films.[3]
Career
Kaniehtiio's first acting credit was in 2006, for the CBC television mini-series Indian Summer: The Oka Crisis. Horn was present at the 1990 Oka Crisis at the age of four with her mother and 14-year-old sister. Subsequently, she landed a role in the 2007 drama film The Colony. In 2008, she appeared in the TV film Moccasin Flats: Redemption, for which she was nominated for a Gemini Award, and in Journey to the Center of the Earth.
In 2009, Horn starred in The Trotsky, playing a Montreal high school student. She appeared in The Wild Hunt, and in Reginald Harkema's Leslie, My Name Is Evil, as a member of Charles Manson's death cult. The three Canadian films were selected for the prestigious Festival du Nouveau Cinéma. The Trotsky and The Wild Hunt made the Top 10 Canadian films list at the 2009 Toronto International Film Festival.[4]
Horn starred in the CBC television sitcom 18 to Life as Monica Bellow, and also voiced several roles in By the Rapids, an APTN cartoon that she made in collaboration with her friend Joseph Tekaroniake Lazare. Accompanying this, Horn shot an APTN television pilot, Escape Hatch, with Mohawk writer and director Tracey Deer. In 2010, Kaniehtiio starred in the film Good Neighbors,[4] as well as the low-budget slasher film A Flesh Offering, playing an artist that gets lost in the woods.[5]
In 2011, Horn starred in the horror anthology film, The Theatre Bizarre,[6] and played a priestess in Immortals.
Horn auditioned for Assassin's Creed III once, although the secretiveness of the project meant she wasn't entirely sure what she was involving herself in. A year later, her agent informed her she got the part and needed to return to Montreal.[7] Her name (which means "beautiful snow")[8] had now been given to her character.[9]
Although not a gamer, Horn was impressed by the project's authenticity, commenting that her character's outfit was "amazing". She also felt it was a very positive depiction of Native Americans, as opposed to modern depictions emphasizing Indian reservation problems like alcoholism.[10] As she is not fluent in the Mohawk language, her cousin was at Ubisoft helping her with her dialogue, and the final result is something she is personally proud of.[11]
In 2013, she appeared in the Netflix drama Hemlock Grove as Destiny Rumancek, a Gypsy witch-prostitute. She starred alongside Famke Janssen, Dougray Scott, Bill Skarsgard, Landon Liboiron and Lili Taylor in the original horror series.[12] In 2013, Horn appeared in Supernatural as Dorothy Baum, and in the sci-fi series Defiance as recurring character Rynn.
External link
References
Community content is available under
CC-BY-SA
unless otherwise noted.