Kanatahséton was a virtual representation of one of Ratonhnhaké:ton's genetic memories, relived by Desmond Miles in 2012 through the Animus.
Description
After killing Charles Lee, Connor returned to his tribe's village in Kanatahséton to find it completely abandoned.
Dialogue
Ratonhnhaké:ton approached a traveler sitting beside a camp fire in the middle of Kanatahséton.
Traveler: If you're hungry, I've extra.
Connor: No thank you... Where is everyone?
Traveler: Gone west. Been a while since they left. Seems some fellow from New York was granted the land by congress.
Connor: What?
Traveler: Seein' it happen more and more. Government SAYS they don't take land that's already owned, but, uh...
Connor: How could this have happened?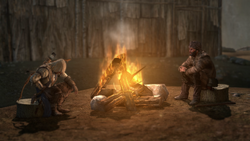 Traveler: We're on our own now. No more Merry English parts and labor. Which means we gotta go at it ourselves. Gotta pay for it too. Sellin' land is quick and easy and not quite so nasty as taxes. And since some say they're what started the whole war, ain't no rush to bring 'em back. Clever men, these new leaders of ours. They know not to push it just yet. Too soon for taxes. Too... British.
Connor stood up and left the man's camp fire.
Connor: Thank you.
Traveler: Be safe.
Gallery
References