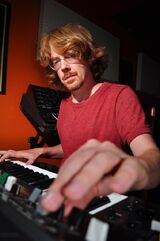 Jesper Jakobson Kyd (born February 3, 1972) is a Danish-born video game and film score composer who was acclaimed for composing music for the Hitman series.
He continued his work with Assassin's Creed, going on to provide music for the majority of the primary installments in the series, including Assassin's Creed II, Assassin's Creed: Brotherhood and Assassin's Creed: Revelations, the latter of which he shared credit with composer Lorne Balfe. During this arrangement, Kyd composed the background music for the single-player portion of the game, while Balfe handled the main theme, the single-player cutscenes, and the music for the game's multiplayer.
For reasons unknown, Kyd did not return for Assassin's Creed III, for which the sole composer was Lorne Balfe.[1]
Reference
External links
Community content is available under
CC-BY-SA
unless otherwise noted.