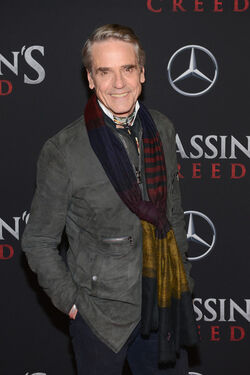 Jeremy Irons (born 19 September 1948) is an English film, television, stage and voice actor who portrays Alan Rikkin in the Assassin's Creed film.
A theatre actor who came to prominence in dramatic leading roles during the 1980s in films like The French Lieutenant's Woman, The Mission, and Dead Ringers, he subsequently became popular during the 1990s with villainous roles in the blockbusters The Lion King and Die Hard With A Vengeance.
Most recently, Irons played Rodrigo Borgia on the Showtime series The Borgias, King Henry IV on the BBC's The Hollow Crown, and Alfred Pennyworth in Batman v Superman: Dawn of Justice.
Assassin's Creed work
Assassin's Creed (2016) – Alan Rikkin
External links
Community content is available under
CC-BY-SA
unless otherwise noted.