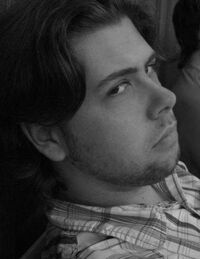 Jeff Simpson (born 22 April 1986) is an art designer at Ubisoft Montreal, where he worked extensively on Assassin's Creed: Revelations, creating concept artwork. In addition, Simpson was part of the development team for Assassin's Creed III.
Biography
Simpson was born in Vancouver, Canada, though he now lives and works in Montreal, Canada.
He attended the Emily Carr Institute of Art and Design (2003–2007) and he graduated with a Bachelor of Media Arts in Animation.
Games credited
Far Cry 3 (2010) - Ubisoft
Assassin's Creed: Revelations (2011) - Ubisoft
Assassin's Creed III (2012) - Ubisoft
Filmography
Snow White and the Huntsman (2011), Universal Studios
Trivia
Gallery
The following contains some of Jeff Simpson's artwork for the Assassin's Creed series.
External links
Community content is available under
CC-BY-SA
unless otherwise noted.