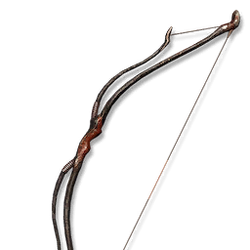 The Jackal's Gaze was a legendary warrior bow in the 1st century BCE Egypt. Inspired by and dedicated to Anubis, the Egyptian god of the underworld, it was believed that the bow, like the god's gaze, would never miss.
The bow was made available to the Medjay Bayek of Siwa via an Animus modification by the Assassin Layla Hassan, who relived the former's memories.[1]
Weapon statistics
Rarity
Quality (Max Level 55)
Damage (Max Level 55)
Attributes
Availability
Legendary
125
1637
Precision IV
Bleeding on Hit III
Health on Hit
Helix Store

Trial of the Gods (complete 4 difficult fights)

Description
Endowed with the power of the god Anubis, this bow's aim is unerring.
Behind the scenes
Jackal's Gaze is a weapon in Assassin's Creed: Origins which shares the same model as that of the Assessor of Ma'at, another bow in the same game. The model was also recycled for the Bandit Bow in Assassin's Creed: Odyssey and variations of it.
Appearances
References
Community content is available under
CC-BY-SA
unless otherwise noted.