I wanted to ask you something. Which is… what's your name?


The title of this article is conjecture. Although canon, no official name for the subject of this article has been given.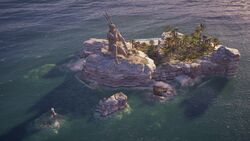 The Island of Triton was a small island located in the Aegean Sea, north of the island of Samos.
Home to a large statue of the god Poseidon, the island possessed also a temple dedicated to him, and was named after his son Triton. In 5th century BCE, the ruins of the temple were overrun by a pack of lions.[1]
During the Peloponnesian War, the Spartan misthios Kassandra visited the island while hunting for a Makedonian bracelet for the pirate queen Xenia.[2] Instead of the bracelet, Kassandra found Poseidon's Trident. In addition to the lions, she also discovered that guards loyal to the Cult of Kosmos had set up a camp on the island's northern shore.[1]
She also visited the island at the request of the Athenian sculptor Phidias, in order to find the hidden symbol on Poseidon's statue.[3]
Gallery
Appearances
References
Community content is available under
CC-BY-SA
unless otherwise noted.