Irish Trade was a virtual representation of one of Eivor Varinsdottir's genetic memories, relived by Layla Hassan in 2020 through the Portable Animus HR-8.5.
Description
Eivor met with the new Irish arrivals at the docks of Ravensthorpe.
Dialogue
Eivor went to meet the Irish arrival at her settlement's docks.
Eivor spoke with the arrival.
Azar: Perhaps you can aid me to locating Hytham.
Eivor: What is your purpose with him?
Azar: I have brought a sampling of goods from Ireland. That is if I can bring my ships to dock.
Hytham walked into the conversation.
Hytham: Azar. I see you've met Eivor Wolf-Kissed.
Azar: Ah, so you are Eivor. In fact, I bring you a message from Ireland.
Eivor: I know no one in Ireland.
Azar: The letter is from Dublin's king. Sadly, I seem to have misplaced it.
Eivor: The King of Dublin? Why would such a one write to me?
Azar: He wishes to expand trade to England. The purpose of my bringing goods here.
Hytham: Azar is from the East, but lives in Ireland now. But in matters of trade, Azar, your king should petition Randvi.
Azar: He claims to know Eivor. He asked me to accompany you on the trip there.
Eivor: I know no king and am certainly not about to journey to Ireland.
Hytham: But first, Azar, you must build a trading post. In fact, where is your trading ship?
Hytham, Eivor, and Azar start to walk inland while discussing the trade issue.
Azar: Ah, yes. An unfortunate incident, most concerning. Trading rivals have blocked the river and thus my goods.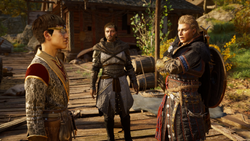 Eivor: A blocked river hurts all Ravensthorpe. Stay. I'll put things right.
Hytham: As you see, Eivor is a person of action. Find me later, when the river is safely clear.
Azar: Of course, my friend! I thank you, Eivor. I will find the king's letter in the meantime.
Eivor: You keep insisting I know an Irish king. It is a fantasy.
Eivor took her leave and headed to the mouth of the Nene River between Grantebridgescire and Lincolnscire.
Eivor: What manner of king is it that sends me letters from Ireland?
Eivor traveled and arrived at the blockade.
Eivor: Ah. Here is the blockade to be cleared.
Eivor started to burn down the blockade's northern and southern structures.
Eivor: They won't like that.
Eivor destroyed all the blockade's structures.
Eivor: Azar's trading rivals are defeated. The river is clear. Now we'll see about this so-called "King of Dublin."
Eivor returned back to her settlement and spoke to Azar.
Eivor: Azar! The river is clear, save for a few bodies and sticks. Your goods will get through.
Azar: Your reputation comes honestly, then, though I am not sure about the name Wolf-Kissed.
Eivor: The scar on my neck.
Azar: Ah. My Viking name would then be Azar One-Eye.
Eivor: Thank you, Azar One-Eye. My men will help construct your trade post.
Azar: Then I am twice-debted to you. If ever you change your mind about Ireland, I will be found in the trade post, once built. O, and I found your letter. Here.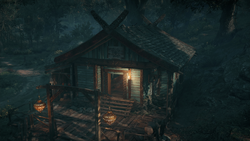 The Irish Outpost was constructed as Eivor read the letter.
From the Court of Dublin's Glorious King, Bárid mac Ímair
Hello Cousin Eivor! I hope this surprise is a pleasant one.

It has been many years since we parted. Word has reached me that we are now both on the same side of the North Sea. I am certain that you are busy, but could we have a reunion?

In addition to the joy of a reunion, you could advance trade for your band of Norse. Azar is expanding Dublin's markets.

Do come. I look forward with pleasure to your arrival.

Your cousin,

Bárid
Eivor: My cousin Bárid is alive! And King of Dublin! The nornir never fail to delight.
Outcome
Eivor met the trader Azar and helped her to open a trade route from Dublin, Ireland to Ledecestrescire, England. She also learned of an invitation to Ireland from her cousin, King Bárid mac Ímair.
Gallery
References