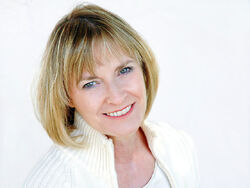 Irene Osprey is a Scottish theatre and film actress, as well as a writer, currently living in Canada. She provided the voice and motion capture for Agnes MacBean, a character appearing in Assassin's Creed: Syndicate.
Active in Canada since 2003, Osprey has appeared in numerous plays, including Elizabeth Rex, Joan of Arc, The Riversmead Affair and Always a Bridesmaid. She has also featured in television shows such as Being Human and Fatal Vows.
In late 2013, Osprey co-founded Stone Soup Productions, a company focused on producing plays centered around women of all ages and ethnicities. She also works for Hudson Productions in the training of Border Services officers, and for the University of McGill in their medical training programme.
Assassin's Creed works
Assassin's Creed: Syndicate (2015) - Agnes MacBean
Reference
Community content is available under
CC-BY-SA
unless otherwise noted.