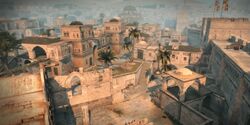 Ippokratous is a market square located in Rhodes.
In 2012, it was used as a simulated location by Abstergo Industries, to train the recruits in the second stage of their Animi Training Program.
The simulation had at its center the market square, where one could find a large gathering of market stalls, as well as Ippokratous' recognizable fountain. Near the fortification walls stood ruins of a large building, where Heralds frequently made announcements. Ippokratous featured many open areas, as well as tighter nooks and crannies, which were suitable for quick get-aways. 
Ippokratous, like most of the simulated locations in the first and second stage, had two aesthetic variations. As such, it could be utilized during dusk or at night.
Gallery
References
Community content is available under
CC-BY-SA
unless otherwise noted.