This article is about Kassandra's home in Achaia. You may be looking for Kassandra's hovel on Kephallonia.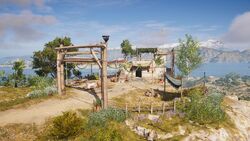 The Ionian Watch was a residence in the Istion Valley in Achaia, Greece. it resided on a small cliff overlooking the village of Dyme.
History
The residence originally belonged to a friend of Kleta who had been killed trying to escape the Tempest's blockade of the region. Following the Tempest's death at the hands of the Spartan misthios Kassandra, the residence was given to the latter by Kleta.[1]
Kassandra lived here for a time alongside her partner, Natakas, their son, Elpidios, and Natakas' father, Darius.[2] Later, after Dyme was attacked by the Order of the Ancients and Natakas killed, Kassandra and Darius buried him in the grounds of the house.[3] She also recovered several trinkets of Natakas to place by his grave.[4]
Appearances
References