This article is about Kassandra's home in Achaia. You may be looking for Kassandra's hovel on Kephallonia.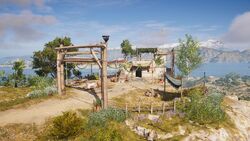 The Ionian Watch was a watchtower and a residence overlooking the village of Dyme in the 5th century BCE Istion Valley in Achaia, Greece.
History
The residence originally belonged to a friend of Kleta who had been killed trying to escape the Tempest's blockade of the region.[1] Following the Tempest's death at the hands of the Spartan misthios Kassandra, she, along with the Persians Darius and Natakas, made the watchtower their home. It was also here that the son of Kassandra and Natakas, Elpidios, was born. Natakas also made a memorial to his mother and his siblings on the yard.[2]
Sometime later Dyme was attacked by the Order of the Ancients looking for the Eagle Bearer and her family. While Darius charged Kassandra to see Natakas and Elpidios to safety, she returned to rescue him. Meanwhile, Natakas and Elpidios hid in the shipwreck on a nearby beach, but they were discovered. Natakas was slain, and Elpidios taken. After, Kassandra and Darius buried him in the grounds of the house, making him a memorial by the one he'd made.[3] At some point, Kassandra recovered several mementoes of Natakas to place by his memorial, bidding him goodbye.[4]
Gallery
Appearances
References
Community content is available under
CC-BY-SA
unless otherwise noted.