Into the Shadows was a virtual representation of one of Ezio Auditore da Firenze's genetic memories, relived by Desmond Miles in 2012 through the Animus.
Description
Having discovered Tarik Barleti's involvement in a weapons deal with Manuel Palaiologos. Ezio Auditore traveled back to Prince Suleiman I to tell him of his discoveries. Ezio then set off to acquire a Janissary outfit.
Dialogue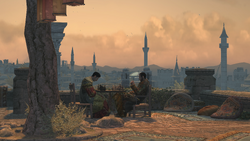 Suleiman and Ahmet were playing a game of chess.
Ezio walked up to Suleiman as Ahmet left.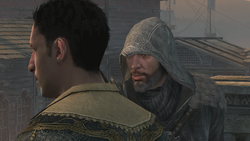 Outcome
Ezio acquired a Janissary outfit and was ready to infiltrate the Janissary camp.
Gallery
References