"Ineb-Hedjet Nome is the White Walls Nome, referring to the splendor of its neighbor, Memphis."
―Description.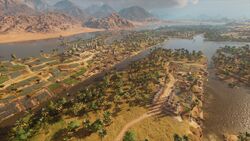 Ineb-Hedjet Nome (English: White Walls Nome) was one of the nomes of Egypt, located by the Nile river and east of Giza. It was so named due to the white walls of the city of Memphis, located south of the nome.
Locations
Military locations
Settlements
Treasure locations
Akhet's Crown

Anchorage

Castoff Temple of Hapi

Hugros Crossing Watchtower

Pyramides Wharf

Winbe
Trivia
Historically, the nome included Memphis, which served as its capital.
Gallery
Appearances
References