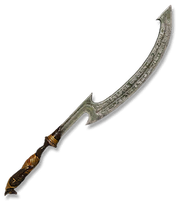 The Imitation Siwan Khopesh was a legendary khopesh made in Egypt during the 1st century BCE.
As it name suggests, the sword was supposedly made to imitate an actual khopesh from Siwa, a far-remote village and oasis in Egypt.[1] By the 1st century BCE, the khopesh was held onto by the mother of Kenthap, who operated in a black market in Euhemeria in the Faiyum. After being saved by a group of bandits by the Medjay Bayek of Siwa, Kenthap's mother handed over the khopesh to Bayek as a reward, claiming it was genuine. The Medjay, knowing the truth, accepted the reward regardless.[2]
Weapon Statistics
Rarity
Quality (Max Level 55)
Damage (Max Level 55)
Attributes
Availability
Legendary
123
824
Bleeding on Hit II

Critical Hit Damage I
Cursed

Complete Forging Siwa
Appearances
References
Community content is available under
CC-BY-SA
unless otherwise noted.