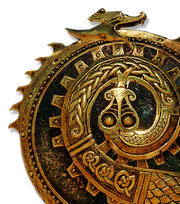 The Imelda Shield was a legendary shield obtained by the Medjay Bayek of Siwa in Egypt during the 1st century BCE.
The shield bore the mark of a serpent which was said to cause the enemies to quail in fear, allowing the wielder to triump over their weakness.[1]
Weapon Statistics
Rarity
Quality (Max Level 55)
HP (Max Level 55)
Attributes
Availability
Legendary
123
1202
Ranged Resistance III
Damage Absorption Rate III
Poison on Block
Purchase the For Honor Pack DLC
Description
Your enemies quail under the keen gaze of the Serpent. Your will triumps over their weakness.
Behind the scenes
The shield is based on the Imelda shield from the game For Honor, a game by Ubisoft Montreal.
Appearances
References
Community content is available under
CC-BY-SA
unless otherwise noted.