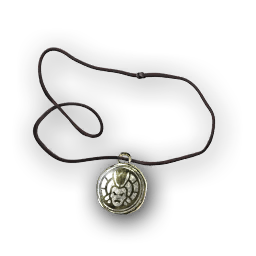 The Image of the Ancients were adamantine necklaces worn by members of the Persian Sect of the Order of the Ancients during the 5th century BCE.
The necklaces featured a distortion of the Faravahar, the national emblem of Persia, with a face at the bottom, likely worn by the members to signify their membership within the Order.[1]
During the Peloponnesian War the misthios Kassandra collected the necklaces from slain members and leaders of the Order in Makedonia, Achaia, and Messenia respectively.[1]
After collecting all 19 necklaces from the members of the Order in Greece, Kassandra handed them over to a blacksmith within Oikos of the Olympians in Kirrha, Phokis, to repair Amorges' personal weapon, the Sword of Kings.[2]
Appearances
References
Community content is available under
CC-BY-SA
unless otherwise noted.