If At First You Don't Succeed... was a virtual representation of one of Ezio Auditore's genetic memories, relived by Desmond Miles in 2012 through the Animus.
Description
After learning of the Templars' plan to kill the Doge of Venice, Ezio Auditore headed to inform Antonio de Magianis of his discovery.
Dialogue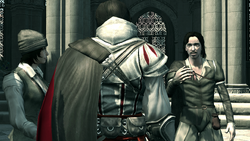 Ezio returned to the Palazzo della Seta to find Antonio.
Rosa: Salute, bello mio. Come stai? (Hello beautiful. How are you?) You back to see me already?
Ezio: Desolato, mia cara (Sorry, my dear), but I am not here to play. I must speak with Antonio. It's urgent.
Rosa called out for Antonio.
Rosa: Antonio! Ezio's here!
Antonio: Ezio! Is everything alright?
Ezio: Carlo Grimaldi and the Barbarigo are in league with the one they call The Spaniard. They're going to murder the Doge and replace him with one of their own. They will have all of Venezia, her entire fleet, in their grasp.
Antonio: And they call ME a criminal!
Ezio: Then you will help me?
Antonio: You have me on your side, brother. And the support of all my men.
Rosa: ...and women.
Ezio: Grazie, amici (Thank you, friends).
Antonio: But, Ezio, I must warn you. It's not going to be so easy this time. Palazzo Ducale is the most heavily-guarded building in Venezia.
Ezio: Nothing is impenetrable.
Rosa laughed.
Rosa: This is why we like you, Ezio.
Antonio: Come! Let's go take a look. We'll come up with a plan.
Ezio and Antonio headed to the Palazzo Ducale to find a way inside.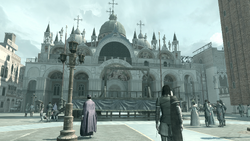 Antonio: This business with the Doge... terrible. Though, treachery like this no longer surprises me. When I was a child, we were taught that the nobles were just and kind. I believed it, too. Though my father was only a cobbler and my mother a scullery maid, I aspired to be much more. I studied hard, I persevered, but the nobles would never have me. If you are not born one of them, acceptance is impossible. So I ask you, Ezio: who are the true nobles of Venezia? Men like Carlo Grimaldi and Marco Barbarigo? No! I say WE are: the thieves, and mercenari and whores. While we work to save this city and its people, the nobles seek to make it their plaything...
Ezio and Antonio arrived at the Palazzo Ducale.
Antonio: We need to scout the palazzo carefully; see it from every angle. We just might find a way in. I know of a tall Campanile behind the palazzo. Or we might find a way to climb the back of the Basilica. Do you have any ideas?
Ezio: I assume the front door is out?
Antonio chuckled.
Antonio: Va bene, we'll try the front door as well, saputello (wise ass).
Ezio and Antonio ran to the front door.
Antonio: We're not getting in this way. They'll have time to murder the Doge before we're able to get through all these guards.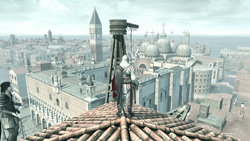 They then ran around the back of the palazzo and climbed a tower.
Antonio: Look at that. Archers everywhere.
Ezio: And the walls are impossible to climb on this side.
Following this, the pair went to the back of the palazzo.
Antonio: Bene! We're in luck. Looks like there's a perfect path up the scaffolding to the roof of the Basilica. Shall we?
Ezio and Antonio climbed the scaffolding and reached the roof of the palazzo. Antonio spotted Carlo talking with the Doge.
Antonio: Ezio, look! Isn't that him? Grimaldi?
Carlo: Don't you understand what I'm offering you, Signore? Listen to me, please! Or this will be your last chance...
Doge: How dare you?!
Carlo: I'm sorry. Mi dispiace (I'm sorry). I meant nothing by it! I'm only looking out for your safety.
Antonio: We're running out of time! There's no way through this fence and there are guards everywhere. Diavolo!
Ezio and Antonio returned to the base of the Basilica.
Antonio: It's impossible! There's no way in or out for men. Only birds.
Ezio: Yes... birds...
Antonio: Where are you going now?
Ezio: To see my friend Leonardo.
Outcome
Ezio and Antonio scouted out the Palazzo Ducale and found out that getting inside would require the assistance of Leonardo's Flying Machine.
Gallery
References