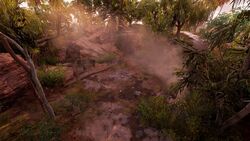 Huntress Cave was a cave in Herakleion Nome, Egypt where Tahira, an old friend of the Medjay Bayek of Siwa and later a member of the Hidden Ones, stayed during her role as a protector of the wildlife in the Nile Dekta.
In 48 BCE, Tahira noticed Bayek was around the region and thus called for his pet eagle Senu, who recognized her voice and flew to her in the camp. Bayek came shortly afterwards, thus reunited with his old friend after a year. There, Tahira asked Bayek to followed her to the ruins of a shrine of Sobek.[1]
Gallery
Appearances
References
Community content is available under
CC-BY-SA
unless otherwise noted.