GTA: The Criminal Enterprises - The Loop
Play Sound
Hunter's Repast was a virtual representation of one of Eivor Varinsdottir's genetic memories, relived by Layla Hassan through the Portable Animus HR-8.5.
Description
After assassinating her old enemy, Gorm Kjotvesson, Eivor headed back to Olav.
Dialogue
After Gorm's death, Eivor went back to the village of Karonhiakèn:iate' to talk to Olav.
Eivor: No need to hide now, Olav. Gorm is dead.
Olav: Gorm ... dead? B-by your hand?
Eivor: He paid a bloody price for broken honor. I will not say more. Return to your sister.
Olav: O, I will! Yet I would first join the villagers at their fire. They tell stories and I like to listen, though I do not hear.
Eivor: Storytime? Telling sagas of their own?
Olav: Yes, yes. They tell stories, yes. Come, listen!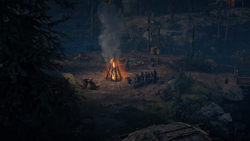 The nightly storytime came as a village leader spoke her story.
Konwahawíhshon: Sok ki' Rarón:tote' wahshakohró:ri' ne Iottsi'tsíson, wahèn:ron' "Háo' tho iétene tsi nón:we rotihsken'rakéhte' tionkkwirotakwén:ni." Tehnitsá:ron ki' tho thní:tahkwe', ia'tehnikà:nere' tsi iohsón:waien tánon' akwé:kon kahsonwahòn:tsi. Iottsi'tsíson iakotatenekwen'tawà:kon, tànon' Rarón:tote' iehsòn:ne ì:rate'. (Then Rarón:tote' told Iottsi'tíson, he said "Okay, we'll both go where the men are unearthing the tree for me." They were both standing there, they saw a hole and the hole was all black. Iottsi'tsíson is holding her belly and Rarón:tote' is standing next to the hole.)
Eivor came behind Konwahawíhshon, who turned around to see Eivor. Konwahawíhshon gestured for her to join them and Eivor took a seat on a log amongst the gathered villagers.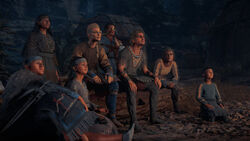 Konwahawíhshon: Sok ki' ohsón:wakon ia'ontke'tó:ten', á:ienhrek tóká' tkahné:kare'. Thontaiawénhstsi', Rarón:tote' iahshakò:reke'. Ohsón:wakon ia'eià:ten'ne' ne Iottsi'tsíson. Tsi wa'akoia'ten'hátie' wa'eienahá:ton' tsi nahò:ten' wa'ekwé:ni'. Ohtehra'shòn:'a, kahtehrowá:nen's tánon' ken' nikahtehrà:sa's ia'éhawe' tsi ia'eià:ten'ne' tsi tetiotshonwà:karas. (Then she looked in the hole, and it seemed as though there was water in it. All of a sudden, Rarón:tote' pushed her. Iottsi'tsíson fell in the hole. While falling, she grabbed on to whatever she could. She then grabbed and brought all sorts of roots, big and small, down with her into that dark hole.)
Karonhiaktátie' stood up and put more firewood into the fire. Karonhiaktátie' looked to Eivor.
Karonhiaktátie': Ká:ts, Kenhnarà:ken. Takwakaratón:hahs. (Come here, white woman. Tell us a story.)
Eivor: I do not understand.
Karonhiaktátie' motioned to Eivor that she should speak.
Eivor: Ah. You want me to tell a story. All right. Let me think...
After some thought, Eivor walked up to tell her story.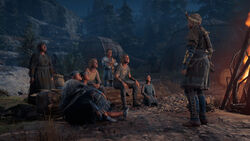 Eivor: A story of betrayal. Of selfish malice. And of gods who act as spoiled children. Of all our many gods, it is Odin who is the most revered. He is the All-Father, the High One, the wise king. But for all his glories, he can also be the most elusive of his kind. Selfish, solitary, stubborn ... even cruel. In days long gone, it came to pass that Odin's son Baldr died suddenly, felled by his only weakness. Mistletoe. Believing his son's death an accident, Odin sent a message to the Jotun, Hel, asking her to return his beautiful boy to life. Hel agreed, but on one condition. Only if every living creature in the nine worlds shed a loving tear for Baldr.

At once, Odin sent word to every corner of the world, asking all to weep for his beloved boy. And all did ... but one. A Jotun named Thokk refused to cry for Baldr. "Let Hel keep what she has received," Thokk said with malice. And that was that. Baldr was gone forever, sent on a funeral-ship across the sea, buried in Midgard amid trees and rocks.

What Odin did not know, is that Thokk was none other than the trickster Loki in disguise, a god he knew as a friend. Worse still, it was Loki who led Baldr to his death by a sprig of mistletoe. All these tricks and feints, Loki had conceived. Some say it was in Loki's nature to be so cruel. Others argue it was revenge for deeds done by Odin to Loki and his children.

There is a third view. That all these acts, kind and cruel, were sewn long ago in the pattern of their lives. That we are not the authors of our own destiny, but only its readers. And that we... O... ...that we should fight against this view. For it is deeply unwelcome.
Karonhiaktátie: Enkwakaratón:hahse' ne A'nó:wara raoká:ra, né: ne oh ní:ioht tsi wa'thate'nówiia'ke'... (I'll tell you a story about a turtle, about how its shell was broken...)
Eivor took out the glowing Crystal Ball.
Eivor: Gorm brought this stone across the whale-road for a strange purpose. I do not know why, but it seems to belong to this land.
Konwahawíhshon: Ióhskats. Kwah rahsnonhsà:ke wenhni'táhere'. (Beautiful. The moon is at your fingertips.)
Karonhiaktátie': Takwawì:re' ken? (Are you going to give it to us?)
Eivor: Take it. And guard it. It may be that one day you will know its purpose.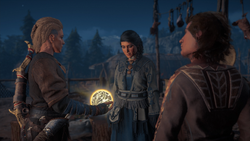 Eivor gave the Crystal Ball to the village leaders.
Eivor: Thank you, each of you. For all you have done.
Konwahawíhshon: Aiá:wen's ki' iethihsothokon'kénha aiesahaharáhten', Kenhnarà:ken. (White woman, I hope your ancestors will guide you on your path.)
Eivor left the village and headed back to Nyhofn to speak with Hilde. As she walked through the settlement, she overheard some of the people speaking.
Helgi: No word from Gorm. And he has taken all the ale. So much work for so little reward!
One of the men called out to her.
Worker Man: Thanks for wrecking the voyage. Now I've got no work. What a hero.
Near the makeshift tavern, Eivor found a new note.
Stained Note
Elspeth says there's not enough bread for the sick. What must we do, eat dirt? Freyja take me home.
Down by the shores of Nyhofn, Eivor found Hilde.
Hilde: Jora of Jorvik! You shirked your work for quite some time!
Eivor: Jora is no more. My name is Eivor, a drengr of the Raven Clan. And my purpose is fulfilled.
Hilde: Purpose? What purpose?
Olav came to see his sister, Hilde.
Olav: Gorm is dead! The troll is dead!
Hilde: Olav!
Olav and Hilde hugged each other.
Olav: Sister, let us celebrate! Gorm Kjotvesson is no more! Slain by Eivor Raven-friend. Eivor Forest-strider. Eivor Olav-saver!
Hilde: What is this?
Eivor: I had a long-standing blood feud with Gorm and his clan. It is now laid to rest.
Olav: O, the skalds will sing to this day! How Eivor traveled far and wide, hunting Gorm along the world's rim!
Eivor: Songs or not, Gorm is dead. Now I suggest you leave this place. There is no purpose for us here.
Hilde: I ... I do not disagree. Gorm was a madman and a troll, indeed. But he paid us in silver, and that was enough. Brother, are you well? I feared the worst for you.
Olav: I am well, yes. O so well. And I may stay! To linger, one season or two, with the friends I have made.
Hilde: As you wish, Brother. And you ... Eivor. Where will you go? Across the sea with us? Or back into the woods?
Eivor decided to leave Vinland.
Eivor: I will sail with you. Let's go.
Hilde nodded.
Eivor: Take care of yourself, Olav, in this life and the next.
Olav: Goodbye. Goodbye!
Eivor: Far wends the whale-road before me. Dark are the deeds that brought me here. Fate may bind my bones to this land, but for now, I walk the sea.
Eivor walked to the longship with Hilde to set a course for home.
Outcome
Eivor spent time with the natives, who were given the Crystal Ball, and said farewell to Olav before leaving for home.
Gallery
References
Assassin's Creed: Valhalla memories