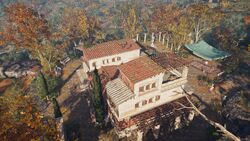 The House of the Pythia was the most lavish house in the Chora of Delphi in the Sacred Lands of Apollo region of Phokis, Greece, during the 5th century BCE.
The assigned dwelling for the Oracle of the Sanctuary of Delphi, she stayed there when not at the temple of Apollo. Invoking safety concerns, the Pythia was assigned guards working for the Cult of Kosmos; they were there just as much to keep her safe as much as to keep her from deviating from the Cult's designs.[1]
During the Peloponnesian War the Spartan misthios Kassandra paid the Pythia a visit in her home. [2]
Trivia
If the location is cleared before starting or during the main quest The Truth Will Out, the dead bodies required to fulfill the location objective(s) will be counted towards the game's requirements for the Pythia being interrogated during The Serpent's Lair. Clearing the location after fully completing 'The Truth Will Out' (i.e. speaking to Herodotus), however, does not seem to result in her interrogation. [3]
Appearances
References
Community content is available under
CC-BY-SA
unless otherwise noted.