GTA: The Criminal Enterprises - The Loop
Play Sound
This article is about the memory of Eivor Varinsdottir. For other uses, see Homecoming.
Homecoming was a virtual representation of one of Eivor Varinsdottir's genetic memories, relived by Layla Hassan through the Portable Animus HR-8.5.
Description
Eivor and Hunwald traveled to Lincoln to meet his father.
Dialogue
After saving Hunwald, Eivor hurried him to depart to Lincoln, quickly.
Eivor and Hunwald neared the shore at Botolphston.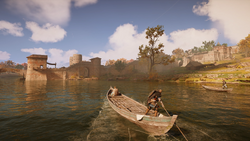 Hunwald: Look, boats there. We could sail the waters to Lincoln. Sink the ships of any enemies in our way.
Eivor: What were you told when the guards exiled you?
Hunwald: O scraps of nonsense. I woke to screaming. A man grabbed me, said I was an immediate danger to my father. Ha. Horsepucky! Mercian soldiers then shackled me, rode me blindfolded to the river Wash and told me plainly: start anew elsewhere or face death in Lincolnscire.
Eivor: What did they mean?
Hunwald: O, some nonsense about me praying for his death, hungry for his inheritance.
Eivor: Speak plainly, Hunwald. I can't help you if I don't know the full story. You hold no grudge against your father?
Hunwald: No, never! No, I suspect the order for my exile came from on high. Perhaps one of Burgred's final orders once he was deposed.
Eivor: That would surprise me. Burgred was battling Danes until the end. He had bigger things to worry over.
Hunwald: Perhaps you're right, he's too contained. It must have been King Aelfred, then.
Eivor: King Aelfred of Wessex? That's another kingdom entirely.
Hunwald: Yes, but Aelfred has a fearful hatred of the Danes! He must have heard that I am courting one! A beauty who knows no equal!
Eivor: Your Dane ladylove. Right.
Eivor and Hunwald warily traveled to Lincoln, right at its gates. Lincoln's guards were on the lookout for any unwanted visitors.
Hunwald: Here's Lincoln. The city of my birth, the cauldron of my present sorrows.
Eivor: Mercian guards everywhere. Follow me.
Hunwald: Right behind you, shadow-walker. My heart beats like the drums of your dragon-boat.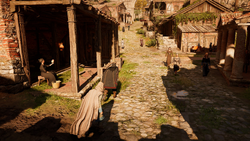 Eivor and Hunwald entered the city.
Hunwald: O how can a place I once called home look so alien to me now! So harsh and un-wanting. Fear not Lincoln, I shall make you mine again.
Eivor: This town is your home?
Hunwald: It was, and should still be! O, to see it now fills my eyes with tears.
Eivor: Save weeping for prayers. We're not inside yet.
Hunwald: One day, I won't have to skulk around this town with my face hidden. I will walk proudly among the people I love.
Eivor: How was your father the last time you saw him?
Hunwald: He was ... quite poorly. But he has the heart of a lion and the holy spirit itself within him! A bout of illness would never bring him low.
Eivor: Did he think highly of you?
Hunwald: O, yes, yes indeed! The thegns and clergy of Lincolnscire are not fond of me, but they do not yet know me well enough. Not soon.
Eivor: The people of Lincoln are not welcoming to Danes.
Hunwald: It's troubling, I know. Your folk are strong, hardy, noble! Creatures, straight out of stories and tales.
Eivor: We are also living people, Hunwald. More than a story. We are real and flawed.
Hunwald: O, yes, I am well aware. Blunt and stalwart, honest and true. I have a Dane ladylove with all those qualities, you know.
Eivor escorted Hunwald to his home, despite the high-guard presence.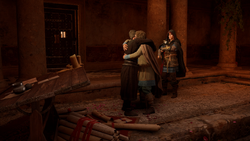 Raeganhere embraced and hugged Hunwald.
Hunwald: I do, my dear Raeganhere. Body and soul! Tell my father, his son has returned, and in fighting form! It is urgent I speak with him.
Raeganhere: I'm sorry, lord, but your father has been taken.
Hunwald: Taken? When?
Eivor: Weeks ago, lord. And well ill he was when they carried him off. I wish I could say more.
Hunwald:
He still has friends in Lincoln, that's a good sign.
Raeganhere: Bishop Herefrith among them. He's kept a vigil at the town hall, looking after things in your father's absence, until he returns.
Eivor: Will we find trouble there, at the town hall?
Raeganhere: You mean soldiers and the like? Aye, there have been many, many more about since your father took his leave.
Eivor: Right. We'll find a quiet way in if we can.
Hunwald nodded as both him and Eivor left for the town hall.
Eivor: Who was that fellow?
Hunwald: Raeganhere? He's an old fixture of my family's household. Loyal to the end. He helps run the place, and he's known me since I was a little lordling. A simple fellow, but worth every pinch of his salt!
They both moved further within the city.
Eivor: Lincoln seems a good place to trade.
Hunwald: Does it?
Eivor: The market is flush with goods.
Hunwald: Yes, it must be. Growing up, we never wanted for anything in my father's home. Bread and poultry and field fruits of all manner. I suppose this is where our servants purchased them. Lincoln's boon was ours as well.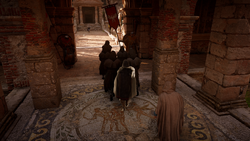 Eivor: How often did you leave your house, Hunwald?
Hunwald: O, from time to time. Yes.
Eivor and Hunwald arrived at the town hall, where Abbess Acha and Bishop Herefrith were discussing matters.
Hunwald: Acha! Herefrith! Tell Lord Hundbeorht his son has returned!
Acha: My lord! You're well.
Hunwald:
Why so surprised to see my return, bishop? Was I rumored dead?
Herefrith:
O, worse than dead. It is my reluctant duty to report the rumor that you were lost in the North, bedding a Dane of some squalid farm.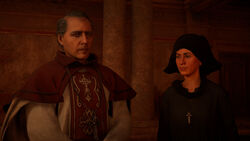 Abbess Acha and Bishop Herefrith looked at each other.
Herefrith: Lord Hundbeorht has gone, I'm afraid. He would not say where to, but I'm sure he will return shortly. Once the storm has passed.
Hunwald: What on earth do you mean by that? What storm?
Herefrith: Your father feared for his life, Hunwald. In his weakened state, he could not defend himself. Not against a Dane, certainly.
Hunwald: How dare you! Eivor is above reproach!
Herefrith: See this from my view, Hunwald! You arrive after a strange absence with a hired Viking in tow, demanding to see your father. This does not, in my estimation, imply benign intentions.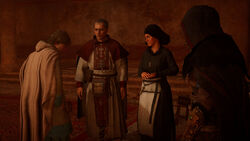 Hunwald shook his head.
Herefrith: Come, abbess. We should leave this young lord to his scurrying thoughts. There is nothing more of use we can say to him.
The bishop left first.
The abbess followed.
Eivor: Stay within these wall where you're safest. I'll have a look around, see what I can learn about your father.
Hunwald nodded in agreement.
Hunwald: If my father spent time at the hospice here, the healers who work there may know something. Talk to them if you can. Find out what they know.
Eivor left to find out the ealdorman's whereabouts and conditions.
Outcome
Eivor and Hunwald snuck into Lincoln and learned that his father has gone missing.
Gallery
References
Assassin's Creed: Valhalla memories