Hoarding Provisions was a virtual representation of one of Ratonhnhaké:ton's genetic memories, relived by Desmond Miles in 2012 through the Animus.
Description
After completing the Liberation Missions in North New York, Connor met with Dobby Carter outside her home, to discuss ending the harassment of starving families by the tax collectors.
Dialogue
Dobby: While you were putting a stop to this madness I was sniffing out who's responsible.
Connor: His tactics are familiar to me.
Dobby: Is that right? Well, don't know who the man is but he's not for Patriots or British. He's got a fortified camp built around the main water supply in the area. All the seized crops, all the meat, everything is being moved there then resold at dizzying prices.
Connor: How do we get in?
Dobby: I got some local men ready to get in on the fight.
Dobby pickpocketed guards to lure them away, while Connor assassinated the Templar leader.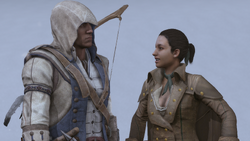 Dobby: He was a madman!
Connor: Not mad, beguiled by a set of dangerous but attractive ideals.
Dobby: Is that right? And who exactly are you?
Connor: Someone who seeks to relieve men like him of their power.
Dobby: After seeing what you can do, I'll leave it at that. But if you ever need an extra blade, I'll stand by you.
Outcome
Connor liberated the North New York and recruited Deborah Carter into the Assassins.
Gallery
References
Community content is available under
CC-BY-SA
unless otherwise noted.