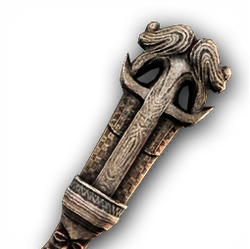 Hippokrates' Staff was a staff which belonged to Hippokrates, a Greek physician who lived during the 5th century BCE.
During the Plague of Athens, the staff exchanged hands as Hippokrates gave it to the Spartan misthios Kassandra as thanks for helping him burn the bodies of the deceased infected by the plague, and fighting the Followers of Ares who haunted his steps.[1]
Weapon statistics
Rarity
DPS (Lvl 99)
Default Engravings
Availability
Rare
7469
+23% Assassin Damage
+40% Damage on Spartan Soldiers
Complete A Growing Sickness
Description
The great healer Hippokrates' credo is "do no harm," but even he would take exception to those harming you.
Behind the scenes
Hippokrates' Staff, a weapon in Assassin's Creed: Odyssey, shares the same model as the commonly found Ornate Staff, another weapon in the same game. These are both the recycled model of the Ritual Scepter, a weapon in Assassin's Creed: Origins.
Appearances
References
Community content is available under
CC-BY-SA
unless otherwise noted.