"The King's desire lies at Himinbjörg, where Heimdall dwells."
―Gull on her visions, 870.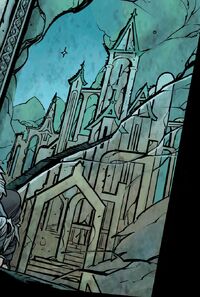 Himinbjörg (Old Norse: Himinbjǫrg, meaning "heaven's castle") was the home of the Isu Heimdall.
Legacy
Rig Reidarasson, the reincarnation of Heimdall, once heard the voice in his head say "Your father will lead you true, for you are his perfect son. Wait for him in Himinbjörg until the day of battle.". This was later recorded in the Rigsogur.[1]
At some point before 870, Himinbjörg was painted on a wall within the Temple of Heimdall atop the Feiknstafir mountains. Behind the wall, laid a mountain of gold coins and other riches, and among these, a pedestal with an Apple of Eden.[2]
Appearances
References