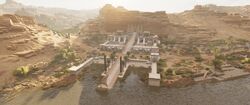 Hermopolis (Ancient Greek: Ἑρμοῦ πόλις μεγάλη Hermou polis megale, Egyptian: Khemenu, Ḫmnw), also known as Hermopolis Magna, was a major city located near the boundary of Lower and Upper Egypt, just north of the Tomb of Smenkhkare.
During the Ptolemaic dynasty, it was part of Haueris Nome and housed a temple in worship of Thoth.
Gallery
Appearances
References
Community content is available under
CC-BY-SA
unless otherwise noted.