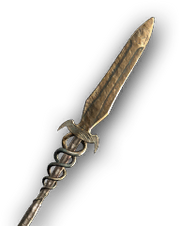 Hermes' Kerukeion was a staff believed to have been the kerukeion given by the god Apollo to Hermes, the god of trade, trickery and sports in Greek mythology
During the Peloponnesian War, the misthios Kassandra was given the spear after helping Hippokrates free a group of slaves held captive at the Melanippos' Camp.[1]
Weapon statistics
Rarity
DPS (Lvl 99)
Default Engravings
Availability
Legendary
8257
+25% assassin damage
+40% poison damage
+15% poison damage and buildup
Complete Let My Patients Go
Trivia
Despite being described as a staff, the weapon is listed and functions as a spear in-game.
Kηρύκειον (kērū́keion) is Greek for 'herald's wand, herald's staff', and is an alternate name for the caduceus, the staff Hermes is depicted carrying in numerous artworks.
Gallery
Appearances
References
Community content is available under
CC-BY-SA
unless otherwise noted.