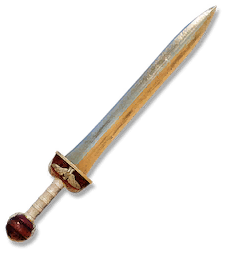 The Hercules' Gladius was a gladius which was said to have belonged to the Greco-Roman hero Hercules. According to legend, Hercules used the gladius to sever the many heads of the Hydra.
During the 1st century BCE the Medjay Bayek of Siwa obtained the sword.[1]
Weapon Statistics
Rarity
Quality (Max Level 55)
Damage (Max Level 55)
Attributes
Availability
Legendary
126
529
Critical Hit Rate IV

Combo Multiplier IV

Health of Hit

Purchase the Gladiator Items Pack.
Trivia
The Hercules' Gladius is based on the Gladius Hispaniensis sword.
Since the legends of Hercules are set during the era of Mycenaean Greece (c. 1600 – c. 1100 BC), centuries before the Roman civilization came to be, and the gladius was not developed until around the 4th century BCE, there are two possibilities. One is that, within Assassin's Creed canon, this sword is wrongfully attributed to him. The other is that this gladius is indeed the sword wielded by Hercules in the slaying of the Hydra canonically, but in that case, the weapon would be anachronistic.
Appearances
References
Community content is available under
CC-BY-SA
unless otherwise noted.