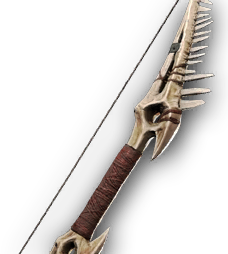 Herakles' Bow was a legendary bow which was believed to have once belonged to the mighty Greek hero Herakles. Made of bone, with sharp, tooth-like spikes running along its limbs, the bow emulated the strength of its namesake.
During the Peloponnesian War, the bow was kept in a chest in the Koinyra Fortress on the Greek island of Thasos. When the Spartan misthios Kassandra infiltrated the fort, she found the bow and took it for herself.[1]
Weapon statistics
Rarity
DPS (Lvl 99)
Default Engravings
Availability
Legendary
7180
+25% Warrior Damage
+20% Damage with Bow Charged Shot
+20% Damage with Bull Rush Ability
Loot the legendary chest in Koinyra Fortress
Description
Every arrow shot from this bow strikes with the force of a demigod. It pierces shields, armor, and flesh with ease.
Behind the scenes
The inspiration for Herakles' Bow, a weapon in Assassin's Creed: Odyssey, came from the Greek mythology. As the legend went, when Herakles ascended to Mount Olympos, he left his bow and arrows to Philoctetes. He in turn used them to kill Paris, a prince of Troy, during the Trojan War.[2]
Gallery
Appearances
References
↑ Philoctetes on Wikipedia
Community content is available under
CC-BY-SA
unless otherwise noted.