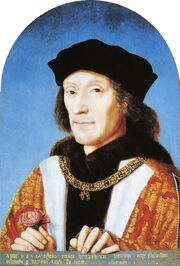 Henry VII (28 January 1457 – 21 April 1509), previously Henry Tudor, 2nd Earl of Richmond, was King of England and Lord of Ireland from 22 August 1485 until his death, and the first monarch of the House of Tudor. He was the father of Henry VIII, and grandfather to Mary I and Elizabeth I.
Biography
After obtaining the throne by force in 1485, Henry ruled England with fierce power, and the country enjoyed peace and stability with him on the trone. However, he immediately attracted the attention of the Templars, who had plans to take over the English throne. They attempted to overthrow Henry, but the King had the conspirators Lambert Simnel imprisoned and Perkin Warbeck – who were, unknown to the King, part of a Templar conspiracy – hanged.[1][2]
In 1503, the Assassins offered to kill the last remaining Templar conspirator, Margaret of York, for King Henry, and he accepted their offer. They succeeded and found out that the Templars had infiltrated the Star Chamber, England's secret court in the Palace of Westminster. Eventually, the Italian Assassin apprentices sent by Ezio Auditore da Firenze found out which members of the Chamber worked for the Templars and reported their identities to the king. Grateful for their services, Henry kept one seat open for the Assassin Brotherhood.[1][2]
Appearances
Gallery
References
Community content is available under
CC-BY-SA
unless otherwise noted.