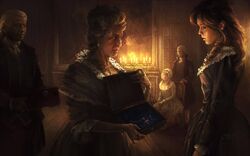 Haytham Kenway's letters were a group of letters sent by Haytham Kenway to his half-sister, Jennifer Scott, dealing with Haytham's dream to conciliate the Assassins and Templars.
Many times the Carrolls, a British Templar family which wanted to prevent peace between Assassins and Templars, tried to steal them, but they failed. Finally, they sent Élise de la Serre to steal them, but Jennifer voluntarily gave them to Élise, hoping she would continue Haytham's fight.
Indeed, Élise was inspired by these letters: she defended them from the Carrolls and tried to make an alliance with the Assassins. In her letters, she asked Arno Dorian to show Haytham's letters to his Brotherhood in order to put an end to the war between Assassins and Templars.
After Élise's death, Bernard Ruddock tried to steal them from Arno on behalf of the Carrolls, but he, too, failed, and was killed for having betrayed Arno's trust.
References
Community content is available under
CC-BY-SA
unless otherwise noted.