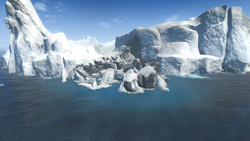 HMS Miranda shipwreck was a shipwreck in the Fort Baie Rouge region of the North Atlantic. The site, and the surrounding area, were explored by the Templar Shay Cormac during the mid-18th century.
While searching the wreck of the ill-fated ship, Shay managed to locate and loot several treasure chests, gaining money and an upgrade plan of elite mortars for his own vessel, the Morrigan.
References
Community content is available under
CC-BY-SA
unless otherwise noted.