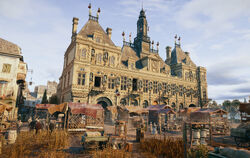 The Hôtel de Ville in Paris, France, was the site of several famous events during the French Revolution. Initially constructed under the mandate of King Francis I, the building remained unfinished until 1628, during the reign of Louis XIII.
History
Throughout the French Revolution, the edifice was known to be the location of several famous events. For example, during the storming of the Bastille, the provost of the merchants Jacques de Flesselles was murdered on the steps of the Hôtel de Ville. Additionally, Maximilien de Robespierre utilized the building as a hideout, after being rescued from execution by soldiers of the Paris Commune.[1]
Appearances
References
Community content is available under
CC-BY-SA
unless otherwise noted.